Last week Fashionista Magazine asked me to do a video tutorial about how I edit my Instagram pictures, check it out! However, since it's in Dutch I will write down the steps in English in this blog, so everyone can follow :) I edit my pictures in 7 easy steps, usually with an app called Snapseed. 
Step 1: Choose the Pic
Before you even start with editing, make sure to use the right picture. For example: my Instagram mainly has white/ grey/ blue colors, so I will always choose pictures which fit with this color palette.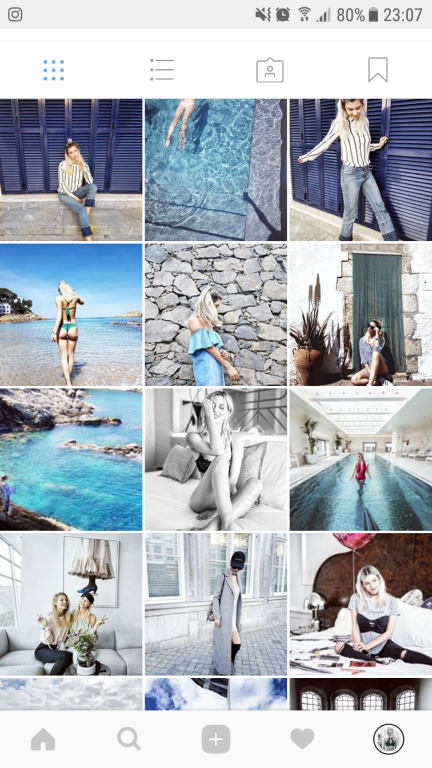 Step 2: Paint with Light
Light dynamics are very important if you want your picture to be pleasant to look at. That's why I like to create a clear front (light) & background (dark), using the brush tool in Snapseed.
Step 3: Basic Settings
Now that you have a clear image, it's time for the basic settings! Since I like to have very light pictures, I add quite some brightness & highlights. But in order to prevent the picture to look flat, always make sure to also add contrast and shadows for better dynamics.
Step 4: Structure and Sharpness
A subtle touch of structure and sharpness really gives that extra boom to your picture. However, make sure to don't overdo it, then it might get ugly. Balance is the key!
Step 5: White balance
The white balance decides the warmth of the picture. Once you decide whether you want your Instagram pictures to be 'warm'  or 'cold', all you have to do is stick with it! As you might have already guessed: I always add a slight touch of blue to my pictures.
Step 6: The Finishing Touch
In this step I fix all the details in the pictures: from extra highlights to blurring out ugly details. Taking out the saturation of white backgrounds to make them even more white, crop the framing, adjust the lighting, etc.
Step 7: Instagram
After all the editing it's finally time to open the picture in Instagram! Here I always add a subtle version of the filter 'Hudson' in order  to create cohesiveness throughout my feed. 
And that's how I edit my pictures! My final tip for a perfect feed: stay cohesive, it will pay off :)
Lots of Love,
Lynn
P.s. If you liked this post, make sure to also check out "3 Instagram poses that are winning and easy to do" and "How to be Instagram Famous"