Correct me if I'm wrong, but I am pretty sure that every girl dreams of owning Urban Decay palettes – their NUDES series is legendary! That's exactly the reason why I got super excited when I received an invite for a super exclusive Urban Decay event at the Pulitzer Suite in Amsterdam. If I would like to come? Uhmmm… what about hell YES <3
Sooo much new goodies! We all sat together, and no one less than Amy Zunzunegui – the senior vice president of product development (the person who comes up with all these brilliant beauty goodies) – explained us about their newest items for spring/summer. 
Even though I'm not the biggest beauty expert, even I could see that some of their items were pretty badass. Their vice liquid lipsticks was literally impossible to get off my hand – for example. But not to worry: they even created a completely new type of make-up remover (a dissolving spray, oil free + vitamin E) which was able to take it off with just ONE swipe (how?!). As you can imagine, my mind was blown.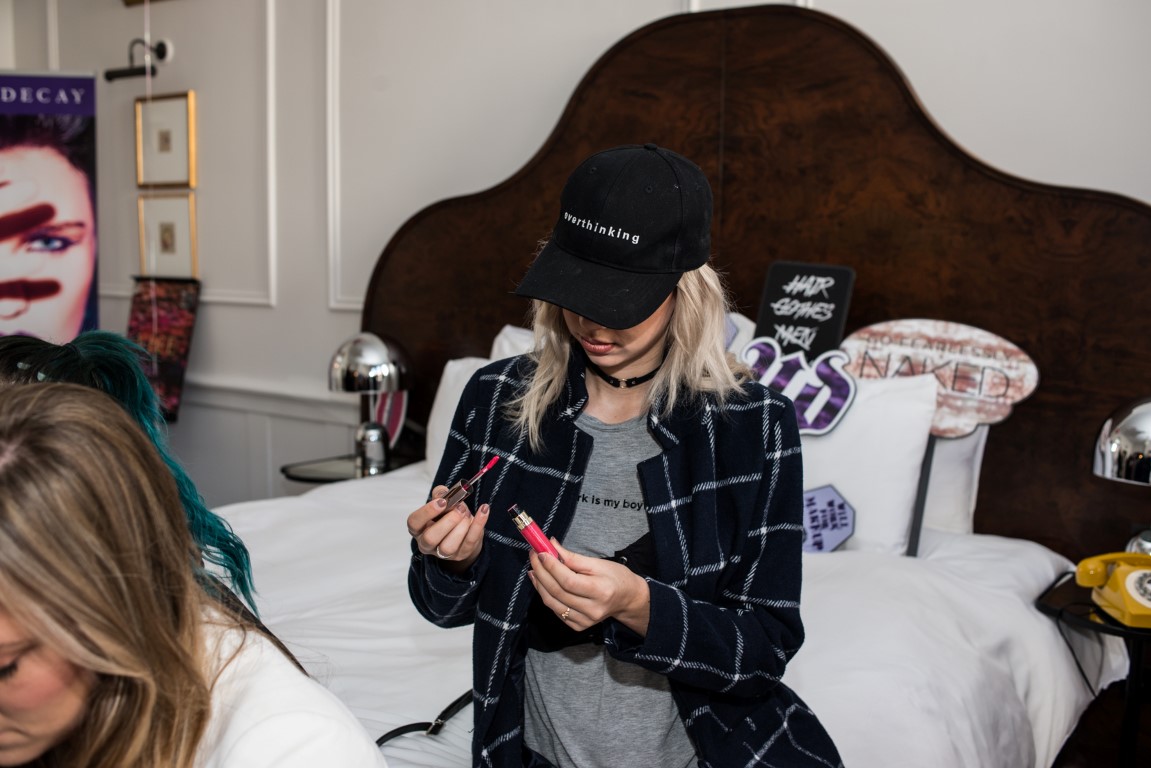 Furthermore, they did a lot of research on the perfect make-up prep. Their newest collection has (among others) a poor refining peel, hot springs hydrating gel and a moisturizing lip balm which smells a-ma-zing.
After the explanation it was time to have fun! We could all make pictures in the room, get our make-up done by Urban Decay make-up artists, or in my case: interview Amy. I asked her dozens of questions about what it's like to be a ladyboss: tips, struggles, personal life, and more. The interview will be out next month! It might have been one of the best conversations I ever had because this lady is truly inspiring, smart and very refreshing with her point of views. 
Apparently the feeling was mutual because we made a selfie and she even posted it on her Instagram. OMG. #fangirlmoment #noshame
And last but not least: the Urban Decay team! Aren't they beautiful:)
After all the pics, talks and make-up, we had a lovely lunch before heading home. Thanks for having me, I had a blast!
Are you a big fan of Urban Decay? Which palette would you wear in your bag 24/7 if you could?
Lots of Love,
Lynn
P.s. If you liked this post, make sure to also check out "The Reason why we've been treating our Make-up all wrong" and "My daily skincare routine"
Photocredits: Evenhauz Photography