Two weeks ago I got some last-minute – yet exciting – news: I was invited to fly over to Spain for Madrid Fashion Week! The last time it was an amazing experience, so of course I said yes. I was a bit stressed about my outfits though, because I just used some of my favorites for Amsterdam Fashion Week, what to do?!
As a true blogger, I dived into my previous blog "The 20 Ultimate Prep Guidelines for Fashion Week" to get some inspiration, surfed the internet to research the newest trends, and eventually I ended up at the airport with 2 suitcases filled with fashion items LOL #bloggerlife. It wasn't in vain though: I was super happy with my looks, and so were the streetstyle photographers! Let's take a look at the trends I was rocking for Madrid Fashion Week, shall we?
Day 1: Badass Babe
I literally had a super early flight, directly a photoshoot in the hotel as soon as I arrived, and then had 20 minutes to get ready for fashion week. As you can imagine: I wanted to go comfy. That's why I went for the most comfy outfit I had in my suitcase: Adidas sneakers and a cap to hide my tired face. Perfect.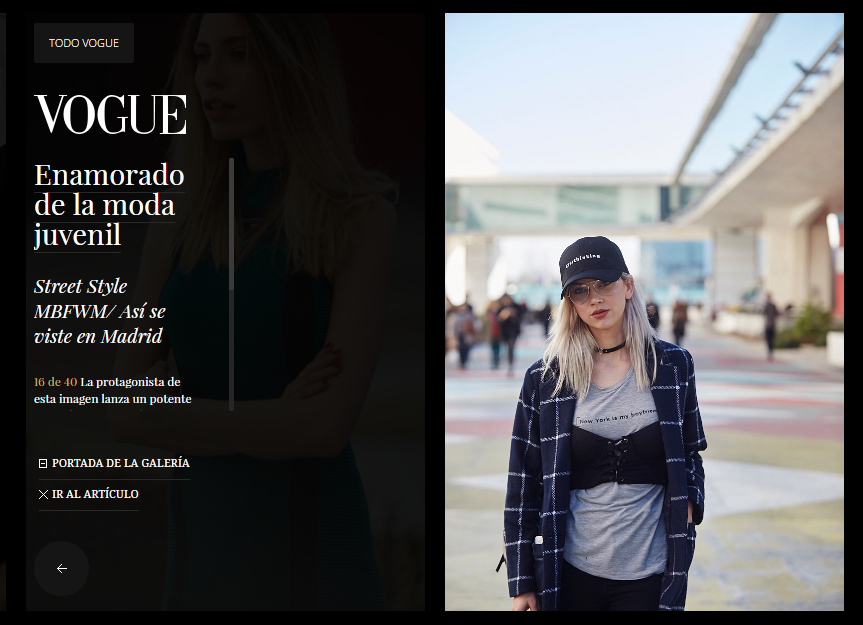 So how many trends can you find in this outfit? Any guesses? If you guessed 4: you won! haha. Right now the fashion world is going crazy over caps, corsets over shirts, trenchcoats and fishnets. Together they form a casual yet stylish look and the magazines absolutely loved it!
Get the look Head to Toe: 
Cap: Rad
Glasses: Polette
Choker: Bershka
Shirt + Corset: Asos
Coat: Modemusthaves
Jeans: Zara
Fishnets: a random sexshop (I swear, they have the best fishnets lol)
Shoes: Adidas
Day 2: Romantic yet Comfy
The Pajama pants! Who doesn't love to walk around comfy during long days? No more getting home and taking of your pants to wear your pajamas, because you're already wearing them outside. I'm a fan. I combined the soft blue pants with a light pink ruffle blouse, which is the second trend of this outfit. The pastels and breeziness of this outfit made me dream of spring already: we are soooo close #hanginthere
Get the look Head to Toe: 
Glasses: Polette
Blouse: Zalando (River Island)
Duster: Jutka & Riska
Trenchcoat: Zalando (Mint & Berry) (similar)
Trousers: Zalando (Mint & Berry)
Day 3: French Chic
Lately the thin scarf has been making a huge comeback. I never really was into it, but then when I gave it a try I suddenly understood: it made me look SO much more chic without any extra effort. I kept the look monochrome with a grey ruffle sweater and a black velvet pants. Add a classy burgundy bag and pretty mules and you look très chic. 
Get the look  Head to Toe:
Glasses: Polette
Scarf: Zalando (similar)
Sweater: Modemusthaves
Trousers: Zara
Bag: Paul's Boutique (limited edition)
Mules: EGO (similar)
Day 4: Pink, Pink, Pink!
As you might have realized, I am in a pink phase right now. So I was reaally happy when I realized that all-pink outfits were becoming a thing. The ruffle blouse, pleated skirt and laced ballerina shoes are super girly, but because I combined it with a satin bomber, the look gets a more casual vibe
Get the Look Head to Toe: 
Ruffle Blouse: Zalando (River Island)
Satin Bomber: Ivy Revel (get 20% discount with BLONDE20)
Skirt: Zalando (Mint & Berry)
Bag: Paul's Boutique (Limited Edition)
Shoes: Zalando (Topshop) (similar)
Note the details: pink glitter socks in my shoes! Definitely a very popular streetstyle trend right now, just like the laced-up shoes. And I just had to share the picture below with my sweet blogger babe Susana: LOOK AT HER SWEATER.
As you can see: I really did my homework on current trends! But I have to be honest, it wasn't all me. I figured I should share my secret with you guys so we can be stylish all together. You might have already noticed that a lot of my items came from Zalando, that's because I recently discovered their newest web feature: an editorial space where they explain everything about the newest trends and how to wear them. I can honestly say I spent a full day going through their articles before I decided my final looks, and it was totally worth it! No, they are not paying me to say this, I am actually really excited about it because sometimes even I find it hard to keep up with the trends as a fashion blogger, and this feature makes my life a little bit easier haha.
Anyways, what do you think about the current trends? I think my favorite Madrid Fashion Week look is either the 1st of the 4th. Which look is your favorite? Leave me a comment!
Lots of Love,
Lynn
P.s. If you liked this blog, make sure to also check out my outfits for Amsterdam Fashion Week and 20 Guidelines to prepare for Fashion Week!