Swimsuits as fashion statement? We are all fan of stylish swimsuits, but did you ever try to make outfits with them? With some of my fav swimsuits of Hunkemöller I created 4 different looks for all occasions: get ready for the next summer fashion trends!
Sporty
First of all, black on black is always a good idea! Combine it with cool sunnies and a pair of sneakers and you're good to go. Going out for a jog or a hike is super comfy with a swimsuit because the material is so flexible, you can even jump into a lake or a pool right after you finished to cool down;)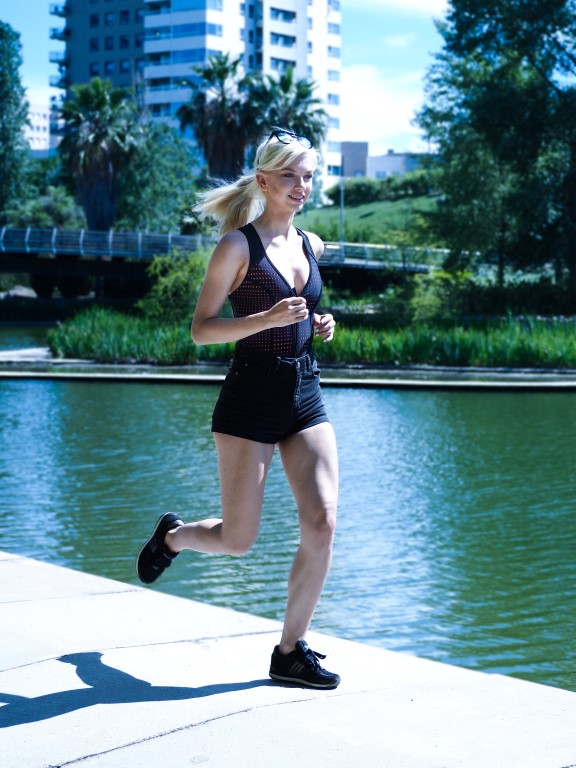 Casual Chic
Going out for a nice stroll on the boulevard or out to dinner? An elegant swimsuit might be the perfect match for you! Look for a classy neckline & color and combine it with a skirt or a culotte. My favorite colors for a chic outfit are navy blue and beige, add some cute sandals with heels and your outfit is done!
Festival 
A blog about summer fashion cannot miss a festival look! I love fun fashion because it allows you to get creative and a little bit silly. This colorful print swimsuit works perfectly with an oversized denim jacket and shorts. To add some extra fun I added happy socks with white sneakers: who else is getting 80's vibes? The finishing touches are the watermelon shoe candies, my colorful sunnies and to top it off a casual bun in my hair.
Oh yeah, did I mention I love fun fashion? I created a bonus look for you guys! To move from 80's to 70's just change the denim for flared trousers. Also I love this long vest, which moves amazingly in the wind! And did you know that detailed sleeves are totally in trend this year?
Party
It's time for the last look  of the day already! Swimsuits are in fact super awesome to wear while partying because they are so comfy. I chose for a black swimsuit with a deep V-neck in combination with a midi skirt, et voila: it looks like a dress! Add some cute high heels and your look is already done :) A big plus: if you are on vacation partying and you want to jump in the ocean after the club, you won't have to ruin your clothes! Gotta love summer fashion
That was it already! Are you guys ready for summer fashion? I sure am! Let me know if you like the looks and if you want to see more :) Enjoy your vacay everyone!
Lots of Love,
Lynn